'Le Parc des 4 Saisons' is located in the small village of Corrèze. This lovely renovated country house has been transformed into a beautiful Bed and Breakfast. Nancy, Steve and their little son Yarno welcome their guests willing to distress and to enjoy a real holiday feeling. Summer or winter, spring or autumn, it doesn't matter, at 'Le Parc des 4 Saisons' you can arrange your holidays the way you want: relaxing, sporting, culture, culinary,… 'A dream that has become true', that's the way how Nancy & Steve would describe their bed and breakfast 'Le Parc des 4 Saisons'.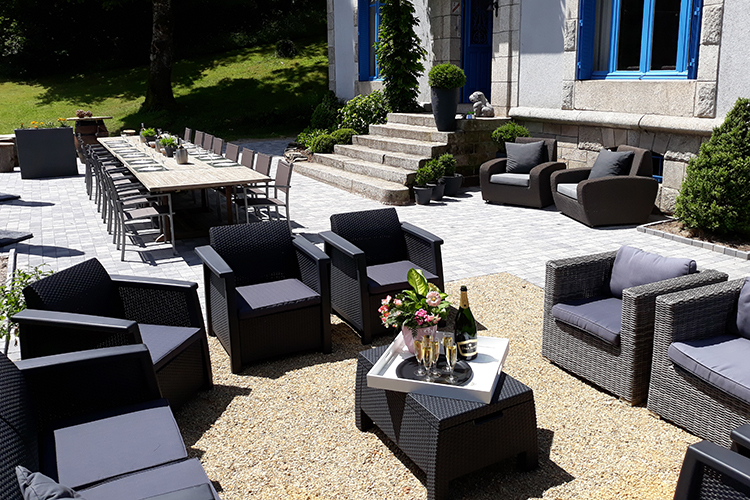 'For many years we were looking to combine 3 things: a place to distress, our passion for nature and wildlife and the need for social contact. And that's what we have found in our beautiful house in Corrèze. The atmosphere is intimate, relaxed and personal!' The charming country house is surrounded by a 1 hectare green park. The domain is situated at the bottom from a hill where you have a marvelous view over the old center of the village of Corrèze. The garden is a real oasis with a lot of trees, bushes, bamboo beds and open meadows. Enjoy the birds whistling all the time and the splashing water of the natural sources in the neighborhood. An ecological swimming pool and a wonderful terrace complete this heaven of nature. The seats on the terrace invite you to lie down and to enjoy the sun, the silence and the peacefulness.


'Le Parc des 4 Saisons' is the place for people looking for peacefulness, for families with little children who can wander over the green domain in all safety. The more adventurous and active people can rent a bike and explore the surroundings. Or play pétanque, a form of boules, and enjoy a nice glass of Pastis. And when the sun is hiding behind the hill you can relax in the sauna or the warm water bath and dive into the cool water of the swimming pool to cool down. The outdoor sauna is heated by a wood-burning stove. The crackling fire brings you to full peacefulness.


You can enjoy a soothing warm water bath in our 'Storvatt', an authentic wooden barrel heated by an underwater stove. The 5 comfortable guest rooms are pleasing and varicolored and contain a heartwarming style with an artistic touch: the beds and the bedside cabinets are own designs and the lights are original and exclusive. The wooden floors give a warm and cosy feeling. Every room has an own bathroom. The suite and the loft in the attic can be used from 3 until 4 persons.